Taggart Group: Ex-developer 'not told of personal guarantee'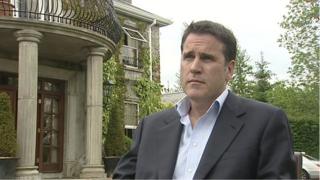 An ex-property developer did not know he was signing a personal guarantee for more than 4m euros (£3.2m) as he signed stacks of bank papers, he told a court.
Michael Taggart and his brother John are suing the Ulster Bank for damages after they lost their business empire in the 2007 property price crash.
The bank is counter-suing the pair, who were once among Ireland's richest men.
Michael Taggart told the High Court in Belfast the bank had instructed him to carry out a "fire sale" of his assets.
The brothers' Dublin offices and development sites across Ireland and the south of England were all sold off as the property market slumped towards the end of 2007, in a bid to reduce debt and ease financial pressures on the troubled firm.
The brothers used to run one of Northern Ireland's largest companies, but the Taggart Group was hit badly by the housing crash and went into administration in 2008.
'No discussions'
The Taggarts have claimed Ulster Bank contributed to the collapse of their house-building firm through alleged negligence and improper conduct and they are seeking tens of millions of pounds in damages.
In a counter claim, the bank has lodged writs for £5m and 4.3m euros (£3.4m) it alleges the brothers owe in personal guarantees over land purchases in Kinsealy, County Dublin, and in Northern Ireland.
Giving evidence about the Kinsealy personal guarantee, Michael Taggart told the court that he and his brother were asked to sign papers in the boardroom of a Belfast law firm in November 2007.
The purpose was to correct an apparent anomaly under which the brother's Kinsealy company was not tied in with the rest of the Taggart Group.
'Stacks of documents'
However, Mr Taggart said no discussions ever took place about entering into a new personal guarantee as part of that process.
"I saw a table in the middle of the room that would have seated maybe six people, and around the table there were numerous stacks of documents piled approximately eight to nine inches high," he said.
Coloured tabs were sticking out of the bundles to mark where he had to sign, the court heard.
Mr Taggart recalled making his signature 79 times in total during a process lasting up to 50 minutes.
Questioned by his barrister whether he was told he was signing personal guarantees, Mr Taggart replied: "No, it was not mentioned to me."
'Fire sale'
The businessman said he would not have agreed to the bank deal if he had realised.
"I would have stopped signing, I wouldn't have signed and I would have wanted to know why I was signing a personal guarantee," Mr Taggart said.
Earlier in the hearing, Mr Taggart outlined how he had attempted to reduce his company's debts by disposing of assets between September 2007 and February 2008.
The court heard the Taggart's Dublin office was sold for about 4m euros (£3.2m).
Sites in Trim, Count Meath; Kinnegad, County Westmeath and another under construction in Brighton were also sold off.
"They were a fire sale," Mr Taggart said.
"Consent was not mentioned. I was told to sell my sites by the bank."