Ballymena church project would 'allow for new Wrightbus headquarters'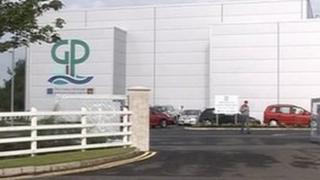 A major development project by a church in Ballymena, County Antrim, would create jobs and allow for a new headquarters for Wrightbus, new details of the scheme have revealed.
The firm is a partner in the scheme, which involves Green Pastures church, founded in 2007 by pastor Jeff Wright.
He is a member of the bus-building family.
Known as the Gateway project, it still requires planning approval, but aims to redevelop a 97-acre site.
It is envisaged that it would be situated close to the town's Seven Towers roundabout.
Part of it would also involve housing, a hotel, retail and the church's relocation.
Previously, the Northern Ireland Independent Retail Trade Association (NIIRTA) has said it "strenuously objects" to the retail element of the scheme, a 67,000 sq ft supermarket.
In fresh details released about the project, it is described as being a "public-private partnership model involving the Wrightbus Group, local business and an anchor retail interest".
Subject to planning approval, construction would begin in mid-2015.
Those involved said it would contribute to the area's economic development plan.
They said a new headquarters for Wrightbus would allow "the company to remain firmly located within the borough, securing much needed employment in research, development and manufacturing in Ballymena and Northern Ireland".
Green Pastures church is currently on part of the Wrightbus site and its relocation would free space for a new headquarters building.