Devenish Island: Vandals damage ancient gravestone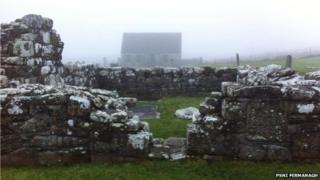 Vandals have destroyed the engraving on a 15th Century gravestone on a lake island in County Fermanagh.
The stone on Devenish Island in Lower Lough Erne was damaged by fire at some point in the last week, police said.
It was cracked in several places and the writing has been lost forever. Police have appealed for anyone with information to contact them.
Devenish Island is home to a monastic site founded in the 6th Century.