Loyalist gun attack accused in Belfast ban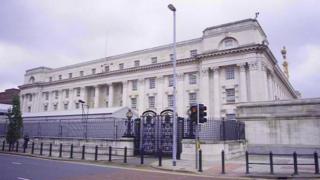 Two loyalists accused of attempting to kill high-profile rivals in a north Belfast gun attack are to be released from custody, a judge has ruled.
Bail was granted to John Bunting and Darren McAllister on charges of attempting to murder John Boreland and Andre Shoukri.
Part of the conditions was a ban on entering Belfast.
They were also ordered to have no contact with either alleged victim or their co-accused, John Howcroft.
Object thrown
Mr Boreland and Mr Shoukri claim they came under gun attack as they drove through Carr's Glen Park in the Ballysillan area on 20 August.
Prosecution lawyers said shots were fired after they got out of their car to confront a group of men who had thrown an object at their vehicle.
Mr Bunting, 47, of Stonebridge Avenue in Conlig, County Down, Mr McAllister, 32, of Alliance Road, and Mr Howcroft, 46, of Formby Park, both in Belfast, each face charges of attempted murder and possessing a firearm with intent to endanger life.
All three accused deny involvement in any shooting incident, claiming the allegations have been made up.
With Mr Howcroft already released on bail to live at an address in Ballyclare, County Antrim, lawyers for his two co-accused returned to court seeking the same outcome.
A defence barrister described both men as community workers involved with a post-conflict group attempting to clean up north Belfast.
He provided "glowing" references setting out Bunting's role in cross-community projects, including work that "led to President Obama visiting one of the projects".
Granting bail to both accused, the judge ordered Mr McAllister to stay at an address in Ballymoney.
As part of their bail conditions, they must also surrender mobile phones and abide by night-time curfews.