Eamon Bradley: Police examining 77 exhibits in Syria explosives case, court hears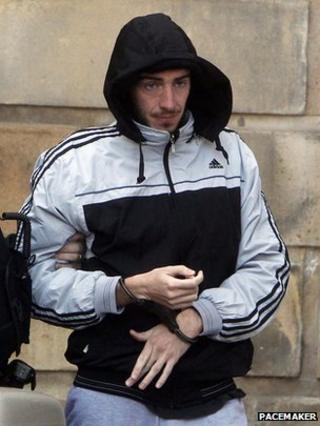 Police investigating a Londonderry man accused of receiving weapons and explosives training in Syria have found apparent text and telephone communication with Arab contacts, the High Court has heard.
Prosecutors also revealed police are examining 77 items of evidence as part of the case against Eamon Bradley.
Mr Bradley, 25, of Melmore Gardens, was arrested earlier this month.
He is also accused of possessing a grenade with intent to endanger life
The court heard on Wednesday that examination of a phone and a computer hard drive is to be completed within a month amid attempts to establish Mr Bradley's reasons for being in the Middle East.
Cell-site analysis will be carried out in a further effort to track his movements.
As Mr Bradley renewed his application for bail, prosecution counsel disclosed new information about the investigation into his alleged associations while in the Middle East.
She said a volume of calls during a three-month period from March to May appear to have been to contacts with Arabic names.
Among the names stored on the phone were two references to an Abu Ahmed, one with the word "camp" after it, the court heard.
Referring to text messages sent at the time, the barrister added that one said: "In Syria having bomb training."
Another allegedly read: "In a training camp" followed by a word thought to read "Jihad".
The prosecutor said: "There are 77 exhibits in total, and certain of the exhibits are being prioritised."
Translators
The judge was told it could take months for all the Arabic to be interpreted.
"Because of the sensitive nature of this case only certain translators can be used," prosecution counsel added.
A defence lawyer argued it was currently "inconceivable" for any case to proceed against Mr Bradley.
He said: "There's not a shred of evidence to contradict the assertion that he was there with a group aligned to the US-led coalition.
"That will be a complete defence in law - it's described as being in the British public interest."
Emphasising the length of time it will take to complete the investigation, the defence lawyer also claimed Prime Minister David Cameron and the government's focus was on those thought to be aligned with Islamic State.
"Mr Cameron said last week they are currently trawling through 200 people suspected of having been linked with ISIL in Syria," he told the court.
"One would imagine they would be the priority."
The judge adjourned the application until 19 December, when phone and computer analysis is to be completed.