Bushmills Christmas tree replaced after Facebook protest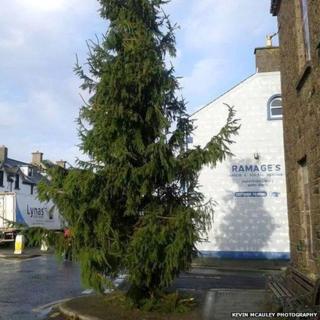 A village Christmas tree has been replaced by council staff after complaints that it was one of the worst festive trees ever seen in the UK.
The tree was erected in the County Antrim village of Bushmills last Friday but within hours it had attracted a wave of criticism on social media.
Community worker Derwyn Brewster began a Facebook campaign and three days later, Moyle Council replaced the tree.
Separately, a council Christmas tree in Annalong, County Down, was cut down.
'Chainsaw'
The local newspaper, the Mourne Observer, posted a picture of the vandalised tree on its Facebook page.
The paper said: "Looks like someone wasn't best pleased with this year's Christmas tree - they took a chainsaw to it overnight."
The Annalong tree had been erected by Newry and Mourne District Council, at a cost of £800.
In a statement, a spokeswoman said the council was "disappointed" that the tree had been vandalised.
'Beautiful'
"In the spirit of the festive period, Newry and Mourne District Council will replace the tree as a matter of urgency and calls on support of the local community to ensure that future trees are not vandalised," she said.
The Bushmills tree was not vandalised but was replaced by Moyle District Countil at about 11:00 GMT on Monday.
The lights are due to be switched on next week.
Mr Brewster, who has helped to organise Bushmills Christmas lights ceremony for the past 10 years, said he was very pleased with the new tree, describing it as "beautiful".
The community worker said his campaign began last Friday, when he posted a photo of the original tree on Facebook, asking "Is this for real?"
'Laughing stock'
He said almost 100 people responded, and others who reposted his message got a similar response.
Facebook users complained the tree was a "sorrowful joke"; a "total disgrace for our village" and claimed it had made a "laughing stock" of Bushmills.
Another Facebook user wrote: "A blind man could have picked a better tree, no amount of decoration is going to make that look good."
Mr Brewster said he was called by council staff over the weekend who advised him of their plans to replace it.
Moyle District Council's director of environmental services, Aidan McPeake, told the BBC: "The Bushmills community groups and the council were clearly not happy with the condition of the Christmas tree, due to damage it received during transit and installation and council staff acted quickly to replace it as soon as practically possible."
---
What do you think of the Christmas tree in your home town? Please email haveyoursay@bbc.co.uk
Send your pictures and videos to yourpics@bbc.co.uk or text them to 61124 (UK) or +44 7624 800 100 (International). If you have a large file you can upload here.
Read our terms and conditions.