North Belfast: Interface barrier removed at Newington Street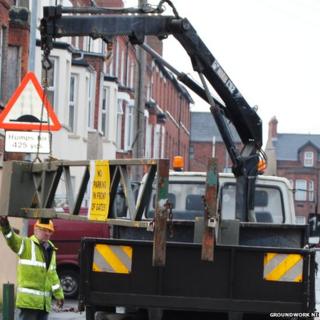 A barrier at an interface area of north Belfast has been removed 30 years after it was erected.
The gate at Newington Street, Tigers Bay, was put in place after violence on the streets during the height of the Troubles.
It was opened in 2012 for a short period of time each day. In 2013 it was opened all day with one-way traffic. It has now been taken away.
But there is still a feeling of unease among some in the area at the prospect of more peace walls and structures coming down.
At a public meeting held at Duncairn Community Centre on Tuesday night, some residents who live on the peace lines at Halidays Road and Duncain Gardens said they felt safer with the walls in place.
About 40 people attended the meeting, chaired by a member of the Tigers Bay and Mountcollyer Residents Association.
Two representatives from the Department of Justice sat on a discussion panel. The department is responsible for 52 of the interface barricades in Northern Ireland. Another 20 are managed by the Northern Ireland Housing Executive.
At the meeting, residents close to existing walls and interfaces expressed their fears over peace walls close to their homes coming down. They told the justice representatives they wanted to be consulted on future moves.
They told the meeting of anti-social behaviour at interfaces and neighbours having plastic windows to avoid bricks smashing through glass.
'Plastic windows'
One resident told the BBC after the meeting that in the past she had witnessed people murdered at peace lines and shot at interfaces. She said that is why having the walls in the area make her feel safe, and she felt the area would not be ready for all the walls to come down for at least 30 years.
The removal of the Newington Street security gate is part of the the International Fund for Ireland £471,000 project aimed at building community confidence to "tackle one of the most visible signs of division in north Belfast, peace walls".
Launched in March 2013, the project is operated by the Duncairn Community Partnership.
'Signs of division'
It is the department's position that it hopes Northern Ireland can move to a point where peace walls are no longer needed.
At Tuesday's meeting, the Department of Justice representatives told concerned residents they were not there to immediately remove more peace walls in the area, rather they were looking at ways to ensure barricades are no longer needed.
They raised issues about more CCTV and improved street lighting.