Simon Hamilton: Finance minister warns of 'considerable' job losses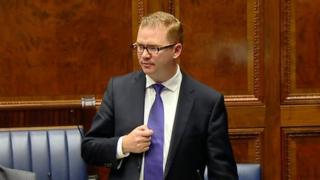 Finance Minister Simon Hamilton has spoken of "considerable" job losses in the public sector, but cannot put an exact figure on cuts through voluntary redundancy.
He said the "fine detail" of proposals was being finalised and due to go before the Northern Ireland Executive shortly.
The 2015-16 budget has set aside £100m for a redundancy plan.
Unions have warned this equates to thousands of posts being axed.
Mr Hamilton said ministers had "rough numbers they need to lose".
He said job cuts were likely to go beyond the forthcoming 12 month period.
Mr Hamilton was speaking at a meeting of the assembly's finance committee and warned of tough years ahead.
"Tighter, difficult times are going to be the new norm," he said.
He also said that the Treasury had yet to approve how Stormont plans to repay a £100m emergency bail-out.
Protocol
Mr Hamilton has asked the Treasury if the executive can break with protocol and pay the money back from its capital budget, not its resource allocation.
The money, to ease current financial pressures, was conditional upon the executive agreeing a draft budget for next year.
Previously, Mr Hamilton has said Stormont's 2015/16 budget is "rooted in tough choices".
Elsewhere on Wednesday, the Department of Education revealed it would not be possible to completely protect frontline services.
BBC Northern Ireland Education Correspondent Maggie Taggart said that although the department says it will try as far as possible to protect services for children its budgets for both annual resource spending and capital building works will be heavily cut, with the former dropping by £162m and the latter £36m.
The biggest resources cost is staffing and the impact is described as "challenging", with job losses likely.
It is understood the biggest impact will be on education and library boards and schools budgets, and some services provided by outside bodies will be cut completely.
They include safeguarding behaviour, information technology and community relations programmes. Sure Start and pre-school budgets will fall by £4.5m in total.
Efforts to provide more nutritious school meals will end because of a cut of almost £5m and the Department of Education plans to save £3m on its administration.
The Irish National Teachers' Organisation said that cuts to the Department of Education's budget could result in up to 2,000 teacher redundancies.
Meanwhile, officials have indicated that the cost of running the health service in Northern Ireland in 2015-16 will be £320m.
BBC Northern Ireland Health Correspondent Marie-Louise Connolly said the department had already secured £156m, leaving a shortfall of £164m.
"To make up that figure it is suggesting cuts among the health trusts totalling £113m, cuts to prescribing medication and some family services of around £20m, while the department and arms length bodies such as the fire service will be expected to provide savings of around £31m, so it is a tough dose of savings," she added.
"On the ground it will mean a further reduction in hospital beds, and the amount of time patients stay in hospital will be cut, also domiciliary care packages are to be redesigned and there is to be further reduction in the number of staff filling in behind those who are off sick or perhaps retiring."