Cloughmills crash: Board will provide transport to collect Gilmour children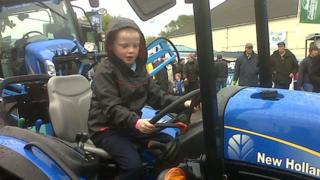 The North Eastern Education and Library Board has agreed to provide transport to collect the brothers and sisters of a boy who was killed in a crash near Cloughmills, County Antrim.
Adam Gilmour, who was eight, was walking to meet a school bus with his mother and siblings when the incident happened earlier this month.
His mother and a five-year-old brother needed hospital treatment.
TUV MLA Jim Allister revealed the board's move.
"Following weeks of representations and the tragic death of young Adam Gilmour, I have now been advised by the NEELB that finally they have agreed to have the Gilmour children picked up at their Loughill Road home, if and when they can face returning to that address," he said.
"This was the reasonable request made to NEELB by me on 20 October 2014, and earlier by the family.
"Sadly, it took NEELB three weeks to even sit down to discuss the request. And as they convened their internal meeting on 11 November news of the tragedy came through and the meeting was aborted. The delay in handling the request is one of the issues I expect to be addressed in the report being sent to the minister.
"While I greatly regret the delay in handling the original request and the tragedy that Adam died in the meantime, it is right, though it took a further two weeks, that NEELB should now provide the transport originally requested.
"My thoughts and prayers continue to be with this family in their deep grief."
An 18-year-old man was arrested over the crash and was later released on police bail.
Adam's grandmother, Marlene Hanna, blamed the North Eastern Education and Library Board (NEELB) for not providing a bus to take them to school.
The children had to walk to Cloughmills to meet a school bus, but in the afternoons a school bus left some of the children home.