BBC Spotlight: Police to examine MLAs' expenses allegations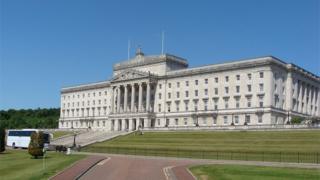 Police are examining allegations about Northern Ireland Assembly members' expenses after revelations in a two-part BBC Spotlight programme.
The BBC investigation revealed Sinn Féin MLAs have claimed nearly £700,000 in expenses for research from a company run by the party's finance managers.
It also discovered that DUP MLA Willie Hay's office claimed more than £4,000 for heating oil expenses in one year.
Both Sinn Féin and the DUP criticised the BBC over the broadcasts.
In a statement, a PSNI spokesman said: "Detectives from serious crime branch are currently scoping allegations of potential criminality made in recent media reports."
Mileage claims
In the second BBC Spotlight on Tuesday night, the programme reported that 36 Sinn Féin MLAs claimed about £700,000 in total through Stormont expenses to pay Research Services Ireland (RSI) over the past 10 years.
However, the programme-makers were not able to find any evidence of research that had been carried out by RSI and one Sinn Féin MLA was reported to have said they had never heard of the company until they saw it on their annual expenses.
Responding on behalf of the party, Raymond McCartney told BBC Radio Ulster that RSI has provided "good research" to Sinn Féin MLAs, that resulted in them being well briefed every time they addressed the assembly or its committees over the past decade.
BBC Spotlight also spoke to former Sinn Féin MLA Davy Hyland, who alleged that a party expenses claim form for mileage, amounting to almost £5,000, was signed without his knowledge.
'Nothing to hide'
Mr Hyland does not drive and said he knew nothing about most of the mileage claimed on his behalf. He refused to verify the claim and the money was never processed into Sinn Féin's bank account.
Speaking on the BBC's Nolan Show, Mr McCartney said there had been "no impropriety" in Sinn Féin's expense claims.
"My party has nothing to fear and my party has nothing to hide. Everything we claim is on behalf of the people who have elect us to do a job in the assembly," he said.
Meanwhile, £4,355 was claimed in one year in the name of the former assembly speaker and DUP MLA Willie Hay for his constituency office's heating oil - the cost of heating his offices increased from £265 over a 10-year period.
Police investigation
Mr Hay's brother-in-law and former office manager has been suspended since Spotlight raised the issue with Mr Hay.
The former speaker said he cannot comment on the issue as it is now the subject of a police investigation.
The programme also reported that both the Ulster Unionist Party and the SDLP paid money directly from expenses into their parties.
'Centralised policy'
It said UUP MLAs regularly paid from expenses into the party, under the heading "support services". In one year, they claimed £84,000 under this heading.
UUP chief whip Robin Swann said: "The support service that we contribute to as MLAs is actually a centralised policy, sort of an administration and finance function."
He denied it was a party function and said the funds were used to provide "support for the MLAs".
In a statement, the UUP called for a "root and branch change" of the expenses system.
"If there has been any deliberate misuse of public money, then of course it must be investigated. There should be a police investigation and anyone responsible for fraud should be prosecuted.
"The Ulster Unionist Party will fully support and cooperate with an investigation or audit," it added.
BBC Spotlight said that up until a few years ago, the majority of SDLP MLAs claimed about £10,000 each from assembly expenses to fund their press office.
SDLP MLA Colm Eastwood told BBC Radio Ulster: "It would be a very strange MLA who didn't release press releases to his constituents to let them know the type of work they're doing. I think that's fairly normal and it's acceptable within the rules."
'Rubbish'
In the first instalment last week, BBC Spotlight revealed that Sinn Féin paid office rent to three different cultural societies, but the programme-makers could not establish what these societies were or who was behind them.
The former chairman of a Westminster standards watchdog, Sir Alistair Graham, said it appeared to him there was a "real danger that these so-called cultural bodies are rather bogus organisations which is a way of channelling public money to political parties".
Sir Alistair said the matter needed to be investigated.
However, Sinn Féin MLA Francie Molloy described last week's BBC Spotlight as "a rubbish of a programme".
'Parasitical'
Mr Molloy said his party was renting accommodation from a "not-for-profit organisation" and said the money was "used to actually deliver services".
The programme also raised questions about why the DUP's Arlene Foster used an office rent-free from a businessman, who she also bought property from.
The DUP said no rules had been broken by the arrangement and Ms Foster said the broadcast was "typical of the parasitical nature" of the BBC.