Russian-speaking children get lessons in Belfast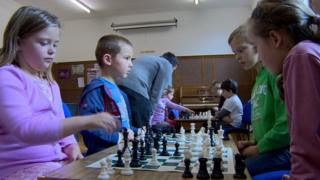 Every Saturday 40 children of Russian-speaking parents arrive at a south Belfast church hall for lessons in language, culture, gymnastics and chess.
For some it is not a short trip.
Many of them spend hours travelling from places like Omagh, Portrush and Ballymena, but their journey from their home countries has been much longer.
They came from places like Latvia, Russia, Kazakhstan, Estonia and Belarus.
Anna Shestakova is from Latvia and has five children. They are largely English-speaking and go to schools in Ballymena.
She does not want them to lose their heritage.
"We want to keep our language, but my children go to local schools and do not really want to speak in Russian at home," she said.
"When I come here, I get the chance to speak to other parents in Russian. It is a social occasion for me too."
It is a sacrifice for families to give up half their weekend, when they might prefer to play sports or just relax.
Nine-year-old Edgars, who is also from Latvia, said: "Honestly, I did not want to come here at first, but then when I came I met a lot of good friends and it is good fun.
"I know I need to learn to speak, read and write Russian so that I can talk to my grandparents when I visit them in Latvia."
Elena Geddis arrived in Belfast two years ago and almost immediately set up the Saturday school.
She said it will help keep family links with the homeland and benefit job prospects.
"I know grandmothers come here and the children can talk to them now, but Russian is a very large language so it will be good for their careers in the future," she said.
Olga Starcemko is a Russian-speaking Latvian, and like the other parents, she chats with her new friends while the classes go on.
She sees progress in her son Anton.
"I see good results from my son Anton. He is starting to read in Russian and that is good, because it is a difficult language. Sometimes I have to push him to talk to me at home," she said.
The First Russian School is keen to get more Russian speaking families and will soon begin drama classes.