UVF murder of Bobby Moffett: Call for full disclosure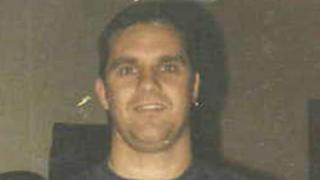 The government should be ordered to disclose a full dossier on a UVF murder, the High Court has heard.
Bobby Moffett, 43, was shot dead in front of shoppers and children on Belfast's Shankill Road in May 2010.
Lawyers for his sister claimed the International Monitoring Commission was constrained from revealing everything it found out about his murder.
The IMC, which is now defunct, scrutinised paramilitary activity in Northern Ireland.
The lawyers for Mr Moffett's sister, Irene Owens, want a judge to direct that all information gathered by the IMC must be supplied to the coroner for an inquest.
Months after the shooting, the IMC issued a special report declaring the murder was sanctioned by the UVF's leadership.
'Public execution'
The international body concluded that Mr Moffett was targeted due to his perceived flouting of UVF authority, and to send a message to the organisation and the community that this authority was not to be challenged.
In its report, the commission described the killing as a public execution, but declined to say that it amounted to a breach of the terror grouping's ceasefire.
So far only an edited version of the report has been supplied for the purposes of holding an inquest.
Mr Moffett's sister is seeking a judicial review which would compel the secretary of state to release the dossier in full.
Her lawyers argue that anything less undermines the coroner's ability to oversee a human rights-compliant inquest.
Opening their case on Tuesday, a barrister argued that the IMC only reached its conclusion following a thorough investigation.
"There were extensive inquiries undertaken by the commission and therefore, we understand, significant documentation leading to some firm conclusions," he said.
"But the commission itself has said it was constrained.
"It seems the inquiries leading to the conclusions would have gone directly to not merely who actually committed the murder, but who was involved in planning it, what foreknowledge there was of it, who sanctioned it and their position within the organisation."
The barrister contended that "all sorts of documentation" would have been amassed.
"It's plain that the IMC knows a lot more than the coroner and the family knows at the moment."
He stressed that the legal challenge was just to the refusal to provide everything to the inquest.
"This is not an application designed to force the secretary of state to provide the next of kin with the information, but simply to accede to the coroner's request."
The hearing continues.