Hamiltonsbawn ATM attack: Gratian-Ioan Pinter 'part of international gang', court told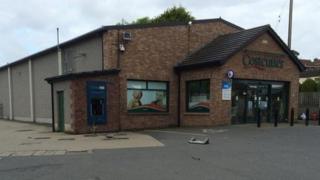 A man accused of blowing up a cash machine in a County Armagh village is part of an international criminal gang and unlawfully at large after jumping bail in Spain, a court has heard.
The claims were made during a bail application for Gratian-Ioan Pinter.
Mr Pinter, 38, is originally from Romania, and has an address in the Republic of Ireland.
He is charged with attempted theft and causing an explosion likely to endanger life.
Mr Pinter is also charged with criminal damage. The charges arise from an attack on a cash machine attached to a Costcutter shop in Hamiltonsbawn in June.
A gang first sprayed paint over security cameras before pumping gas into the cash machine and igniting it.
They did not get any money but destroyed the machine and caused considerable damage to the building in which it was housed.
It was one of a spate of such attacks that, Armagh Magistrates Court heard, the police believe are all linked to the same gang.
Mr Pinter was arrested 10 days later. The gang crashed an Audi car in which they were making their getaway. The police believe they can link Mr Pinter to this vehicle by fingerprints that were found on a bottle.
'Gang'
Objecting to bail on Tuesday, a detective revealed that the address being suggested by Mr Pinter's defence team was a property near the County Armagh village of Keady, within "a few steps" of the border.
A detective said the police believe the occupier of the house is also a member of an international criminal gang.
He said that both the occupant, and Mr Pinter, were wanted in mainland Europe in connection with a string of similar attacks on cash machines and were unlawfully at large.
Mr Pinter, he said, had broken the terms of a court order issued in Spain by leaving the country.
The detective also told the court that around the time of the cash machine bomb attacks, Mr Pinter had regularly travelled between Dublin and Faro in Portugal. He said he had flown to Faro the day after an attack in Carrickmore and the day after the attack in Hamiltonsbawn.
A lawyer for Mr Pinter said his client had been in Northern Ireland on holidays at the time he was arrested. He questioned the detective on the detail of the Spanish court order. He suggested that it could be the case that his client was only in breach of it because he was under arrest in Northern Ireland and therefore unable to attend court in Spain.
The police officer, however, said it was his understanding that Mr Pinter had breached the terms of the order by leaving Spain.
Bail was refused and Mr Pinter will appear again via videolink next month.