Omagh bomb accused Seamus Daly 'must stay in custody'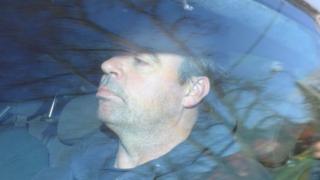 A man accused of murdering 29 people in the Omagh bombing must remain in custody, a High Court judge has ruled.
He refused to grant bail to Seamus Daly, rejecting claims that he should be released because of delays in progressing the case.
But he said the Public Prosecution Service had an obligation to move it on "as expeditiously as possible".
No-one has been found guilty of the Real IRA bomb attack in August 1998.
Mr Daly, 44, originally from Cullaville, County Monaghan, and now living in Jonesborough, County Armagh, faces 29 counts of murder.
He is also accused of causing the explosion in Omagh and possession of a bomb in the County Tyrone market town with intent to endanger life or property.
He is also charged with conspiring to cause an explosion and having explosives with intent in connection with a separate dissident bomb plot in Lisburn, County Antrim, in April that year.
At the time of his arrest, he provided a prepared statement denying IRA membership or any involvement in either the Lisburn attempted bombing or the attack on Omagh, whose 29 victims included the mother of unborn twins.
The bail court was told that no new evidence had been unearthed.
Police are relying on material which has been in their possession for up to 16 years, the court heard.
Senior counsel for the accused said that there was nothing complicated about a case centred on the alleged movement of phones during the bomb run into Omagh.
"It's a very stale case and has not been reignited by any new evidence," a defence lawyer said.
But a prosecution barrister described it as a complex and voluminous investigation.
She said 15 files of material had been compiled by a new investigation team appointed in 2012.
An international letter of request has also been sent for everything held by police in the Republic of Ireland.
The judge had already denied bail in April.
Ruling on the renewed application, the judge said: "There's no new evidence in this case, the relevant material having been available to the authorities for well over a decade."
However, he said the prosecution was due to give a detailed update on the case in early January.
"I'm not persuaded at this time that a change of circumstances has been established. Accordingly, in keeping with the decision given earlier, bail is refused," he said.