Sinn Féin passed 'sex abuser info to Irish police'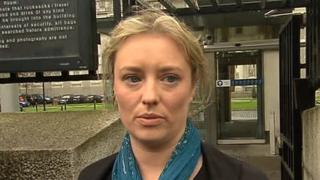 Sinn Féin is understood to have passed information to police in the Republic of Ireland about alleged sex abusers within the republican movement.
The Sunday Times reported over the weekend that Joe O'Reilly, a Sinn Féin councillor in Meath, had passed on information on behalf of a former IRA member.
It concerned six republicans suspected of historic abuse.
A party source would not confirm the details of any information handed over.
However, the source confirmed that Mr O'Reilly, a former IRA prisoner, is the party's designated national child protection officer.
The source pointed out that in a debate on the case of Máiria Cahill in the Dáil earlier this month, party president Gerry Adams "called on former IRA volunteers who have any information whatsoever on the expulsion of abusers to bring that information to the appropriate authorities".
Mr Adams told TDs that he had personally worked with "An Garda Síochána and given it information on criminality, including allegations of abuse".
The Irish Times reports that allegations that sex abusers were moved by republicans from Northern Ireland to other locations is expected to be discussed at a north-south meeting due to take place next week.
Fianna Fáil leader Micheál Martin has called for a cross-border inquiry into the allegations.
Northern Ireland Deputy First Minister Martin McGuinness has suggested a north-south process to deal with the issue of support for those "who were victims of sexual abuse during the conflict".
The Irish Times quoted an Irish government source as saying that a number of options were being considered and that a cross border inquiry might be "potentially the most effective process to get at the truth".
Maíria Cahill, the west Belfast woman who claims she was raped by an IRA member, said she had seen the Garda Síochána twice this month to provide information about alleged abusers within the republican movement.
The man whom Ms Cahill alleges assaulted her was acquitted after she withdrew her evidence against him.