DUP's Gregory Campbell targeted in death threat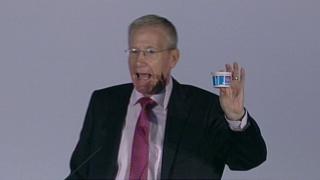 DUP MP Gregory Campbell has been told by police of a serious death threat, his party press office has said.
Party leader Peter Robinson said it was "an attack on democracy itself".
Mr Campbell said: "This is not the first time that my life has been put under threat by republicans, and the challenge now is whether those who supported the threats in the past will condemn those who do it now.
"If they do, it is an indication that we have indeed moved on."
He added: "I will not be dictated to or deflected by terrorists."
At the weekend, Mc Campbell told delegates his party would treat Sinn Fein's "entire wish list" as no more than toilet paper.
He also said: "We will never agree to your Irish language act."
Speaking earlier, Mr Robinson claimed Mr Campbell's words were "a bit of comedy" in the middle of the conference.
On Monday, Sinn Féin minister John O'Dowd said his speech threatened the integrity of recent talks and called on Mr Robinson to be clear about the DUP position.
As news of the death threat broke, Mr O'Dowd expressed sympathy for Mr Campbell.
"My thoughts are with him and his family," he said.
"I know the effect on himself and his family."
In a statement, a police spokesperson said: "We do not comment on specific threats, however if we receive information that an individual may need to review their security, we will take steps to inform them immediately."