Paul Quinn murder: NI Assembly in call for information from republicans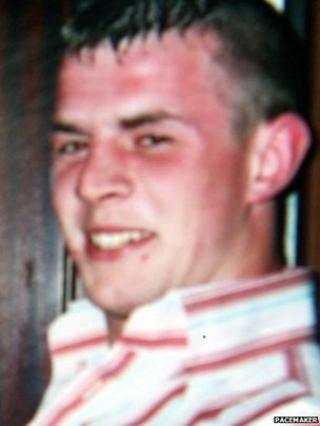 The Northern Ireland Assembly has called on republicans to provide more information to the police about the murder of Paul Quinn seven years ago.
A motion, proposed by the SDLP, was passed by 64 votes to 24 votes.
It condemned Sinn Féin leaders for what it called "false accusations against Paul Quinn" and demanded an apology from the party to the Quinn family.
Mr Quinn, from Cullyhanna, County Armagh, was 21 when he was beaten to death. His family blames IRA members.
The family said Mr Quinn had been involved in a dispute with individual members of the IRA.
He was found beaten at farm buildings in Tullycoora, near Castleblaney, County Monaghan, in the Republic of Ireland, in October 2007.
He died in hospital several weeks later.
Sinn Féin has denied republican involvement in Mr Quinn's death.
His mother Briege said she hoped the fact that republicans have reportedly passed information to the police service in the Republic of Ireland (An Garda Siochana) about suspected sex abusers would set a precedent in relation to her son's case.
She called on those with information about her son's murder to visit their local garda station.
SDLP assembly member Dominic Bradley said he had tabled the motion in the assembly to support the Quinn family in their search for answers.
"I felt very strongly that it was important to keep the very brutal murder of Paul Quinn high on the public agenda, as it is still a live and unsolved case," he said.
Speaking at Stormont, Mr Quinn's mother was asked if she knew who had murdered her son.
"I've a good idea," she said.
No-one has been convicted of killing him.
She added: "I would ask Sinn Féin to go to the garda stations in Carrickmacross and Castleblaney where this investigation is taking place and give the names of those that murdered my son."
Mr Bradley said his motion noted that a paramilitary activity watchdog, the Independent Monitoring Commission, had stated "that current and former members of the Provisional IRA were responsible for Paul's murder".