NornIronGirl1981: Teenage diary shows life during NI Troubles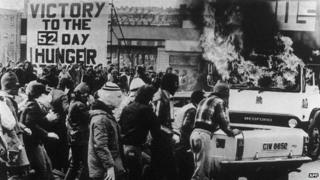 Teenage life can be a turbulent time no matter where you grow up, but one Northern Ireland woman's diary from 1981 provides a glimpse of the highs and lows of life during the Troubles.
Bronagh McAtasney created her NornIronGirl1981 Twitter account - billed as "teenage angst, boys and hunger strikes; the life of a 13-year-old in Northern Ireland" - to provide daily extracts from her diary on the same day 33 years ago.
"My sister found the diary for me and the two of us were laughing at the entries," she says.
"I took the diary and edited it down to these small 140 character entries, and it really lends itself to being put out every day on the day things happened."
The diary entries are a mixture of updates on family, friends and pop stars against the backdrop of the hunger strikes where 10 republican prisoners starved themselves to death in the Maze Prison.
Tweets from @nrnirngirl1981
17 June: We went driving Mummy had to stop on a hill for an army checkpoint but she didn't put the handbrake on The car slid back & hit a car behind!
3 July: We went down the street. The punks came over. A bomb went off at the customs. Paisley was shot at. C Lloyd won the womens final 6-2, 6-2.
30 July: I bought presentation stamps of the Royal Wedding @ the Post Office and a patch in the market. Shakin Stevens No1, Green Door. Hopeless
2 August: I got the Sunday Times Royal Wedding special. (Hunger striker) Kieran Doherty died tonight. We heard binlids. I watched a v sad film It made me cry for a bit
3 October: Swap Shop was on today. It was good. The hunger strike finished today. I think there were a lot of lives wasted & it gained nothing.
She admits that she did not always grasp the serious nuances of events happening around her.
"As a 13-year-old I was becoming a bit more aware but I wasn't very politically aware," she says.
"To us, and it might seem strange, the hunger strikers became almost like a pop group or something.
"We learnt off all their names, we had pictures of them on our walls and it was kind of the cool thing to be into it, with no political awareness of what that meant.
"When they died and Northern Ireland was on the news a lot, there was a certain naïve glamour to it."
At the time she was a pupil at Our Lady's Grammar School in Newry, County Down, and on Friday she read out extracts from her diary for a school fundraiser.
One of her former teachers who still works at the school, Teresa McAllister, says that it was a difficult time in the early 1980s.
"We walked a path between being careful about what we said because it was dangerous to say too much and yet wanting to get a message across to our students," she says.
"We had to be sensitive to where they were coming from, to their family connections and their sincerely held political beliefs.
"Sometimes people would make comments in school and you had to make a judgement on whether to respond or not."
Bronagh McAtasney says she is often astounded when looking back at her diary entries.
"If I thought my 10-year-old child was going to grow up in that kind of atmosphere, and take it for granted that there were searchlights on the street or that you'd open your front door and have to step over a soldier, I'd be horrified, but at the time we just absorbed it," she says.
While she still remains a fan of the pop music of the time - her reading of journal extracts was followed by an eighties disco - she admits she no longer keeps a diary.
"I don't think my life's as interesting as it was in 1981," she says.