Santander bank worker Eamon Coyle jailed for £102,000 fraud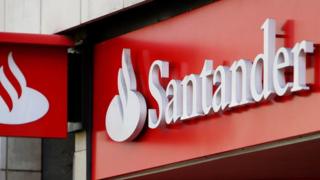 A former bank worker who defrauded his employer of more than £100,000 has been sent to prison for nine months.
Eamon Francis Coyle, who worked in a Santander call centre in Belfast, falsely transferred £102,772.73 into several bank accounts.
The 31-year-old, from North Hill Street, Belfast, admitted a count of fraud by abuse of position.
The fraud took place over a period from January 2011 to February 2012. The money has never been recovered.
The judge at Belfast Crown Court sentenced Coyle to nine months in custody with a further nine months on supervised licence upon his release, for the "leading role" he played.
A defence lawyer told the court her client had developed problems with alcohol, drugs and gambling, and had got into trouble with moneylenders.
She said two men demanded money from Coyle and when he was unable to pay, he was threatened at gunpoint.
The defence lawyer said these two men "knew where he worked and demanded he access money from his employers", but Coyle refused to identify the pair.
Special investigation
In addition to the fraud charge, Coyle also admitted two further counts of entering into an agreement to acquire criminal property.
One count relates to the transfer of £50,167.40 into the bank account of co-accused John James O'Halloran.
The second count relates to the transfer of £21,474.76 into the account of a man not before the court.
O'Halloran, from Short Street in Belfast, pleaded guilty to one charge of entering an arrangement with Coyle to acquire criminal property, namely money transferred into a Santander account in 2011.
For this offence, the father of four was handed a seven-month prison sentence.
A prosecution lawyer told the court that in April, 2012 a special investigation unit within Santander launched an inquiry into Coyle, who used to work at the May Meadows call centre in Belfast.
Holding account
He worked there from November 2004 until his resignation in March 2012.
The court heard that one of Coyle's roles within the call centre was carrying out transfers from Santander's holding account, which was used to store funds that had not made it from the sender to the recipient.
This could be due to a number of reasons, such as an incorrect recipient address, and Santander - like other banks - uses the holding account to store funds until the transfer is completed correctly.
Using his own unique staff identification number, Coyle used this holding account system to fund transfers of just over £102,000 via 159 transactions, over a period of just under a year, from January 2011 to February 2012.
This money was placed into two accounts held by Coyle, as well as accounts of co-accused O'Halloran and a second man not before the court. The transferred money would then be withdrawn from various ATMs.
'Significant loss'
The prosecution lawyer told the court that Coyle had encouraged O'Halloran to become involved in the fraud and that O'Halloran "was being paid a relatively modest sum" of £100 a week as a result of that involvement.
In total, O'Halloran is thought to have made around £2,000 from the theft, while the £102,772.73 obtained by Coyle has never been recovered.
Passing sentence, the judge said the men's scheme had resulted in a "significant loss" to Santander.