Police release image of Lisburn driver's lucky escape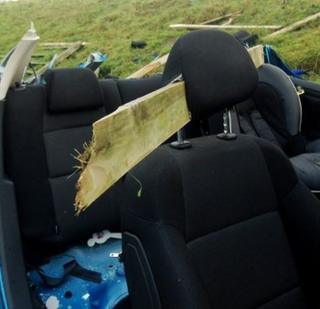 Police have released a shocking image of a recent car crash in Lisburn, County Antrim, as part of an appeal to drivers to take more care on the roads.
The picture shows part of a wooden fence speared through the headrest of a car.
The driver, who is currently in hospital, gave police permission to use the picture.
Although he suffered a number of injuries, including broken ribs, he narrowly avoided a serious head wound.
PSNI Lisburn Commander, Chief Inspector John Wilson said: "A full investigation has been launched to determine the cause of this accident, but this picture shows that the driver of this vehicle was just inches away from a serious head injury."
He added: "In Lisburn we have had seven fatal road collisions this year, six more than this time last year.
"Across Northern Ireland to date this year, 73 people have been killed on our roads, 16 more than the total number of people killed in collisions during all of 2013.
"Look carefully at this photograph. Understand the reality of this situation. Drive safely, and do all you can to avoid being in the same situation.
"This driver was incredibly lucky not to sustain much more serious injuries."