Road accidents: Deprived school children five times more likely to be hurt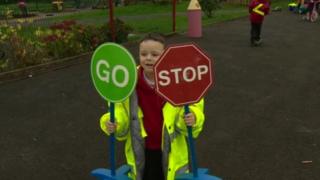 Children from the most deprived areas of Northern Ireland are five times more likely to be hurt in road accidents walking to and from school, according to Police Service of Northern Ireland figures.
The Department of the Environment are targeting 67 schools in high risk areas with pedestrian safety classes.
Between 71 and 116 children have been seriously injured each year since 2009.
Five children were killed in 2012, the highest death toll in that period.
Gemma Harbinson's daughter Amy, a pupil at Ballycraigy Primary School, Antrim, was knocked down and injured last year.
A car hit the five-year-old as she walked to school with her mother.
Ms Harbinson said: "Her head hit the bonnet, and then she hit the ground. She hurt her head and her ribs, and she was quite shook up after it. It was just awful, really awful for any mother to go through."
Dr Hazel Edwards, head teacher at Ballycraigy Primary School said that more than three quarters of pupils come to school on foot.
Children aged six to nine have been given high visibility jackets, as well as class time with special workbooks on road safety.
They are also taught how to cross roads and play safely during guided walks in the school neighbourhood.
Children from the most deprived 10% areas of Northern Ireland are five times more likely to be killed or seriously injured walking to school than those in the least deprived 10%.
Dr Edwards said: "Parents are more reliant on walking to school and public transport, and therefore we think it's our role as a school to make sure we upskill the children and the parents on trying to have a safe route to school, so that the children actually get into our doors in the morning-time safe and sound."