Londonderry court: Man faces 32 charges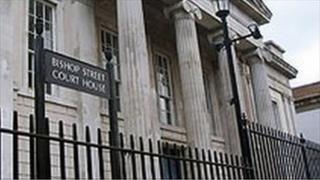 A 22-year-old Londonderry man has been charged with 32 separate offences including possession of a firearm.
The charges relate to a series of incidents in the city's Galliagh area on Tuesday.
Christopher O'Reilly, of Glenabbey Drive, appeared at a bail hearing at Londonderry Magistrates Court after being arrested with two other men.
Mr O'Reilly was remanded in custody to appear in court again via video-link on December 11.
The charges include aggravated vehicle-taking and possession of a handgun in suspicious circumstances.
'Unprovoked attack'
They also include possession of a machete, aggravated burglary and attempted hijacking.
The court was told that all of the offences are alleged to have occurred on Tuesday, 18 November.
Opposing bail, a police officer described Tuesday night's alleged offences as a "sustained and unprovoked attack on the community".
The officer also told the court there could be "retaliation" against the defendant and the "safest place" for him was in custody.