Northern Ireland health survey: 'Possible psychiatric disorder' rate at 19%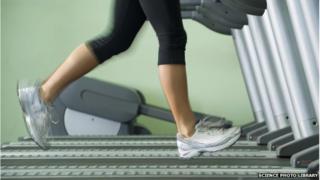 More people in Northern Ireland are drinking moderately, eating five-a-day, and smoking less, according to an annual health survey.
The Department of Health survey, published on Thursday, also suggests 19% of respondents showed signs of a "possible psychiatric disorder".
It stated 61% of adults and 25% of children are obese or overweight.
Almost three quarters of adults questioned described their health as 'good' or 'very good'.
The results are drawn from a survey of 4,509 respondents.
Obesity
Compared with 1997 figures, adult obesity has risen from 56% to 61%.
Around half of the respondents classed as obese were meeting the recommended weekly levels of physical activity.
Smoking was down from 26% nine years ago, to 22%.
Men and women
Men are more likely to be meeting the recommended physical activity levels than women, but are also more likely to be drinking more than sensible weekly alcohol limits.
Of the women who showed signs of a possible mental health issue, almost half were taking medication for stress, anxiety or depression.
Less than a third of men identified with possible mental health issues were taking medication.