PSNI cuts: Just two stations to provide 24-hour opening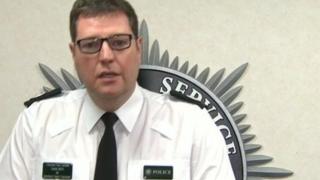 There will be only two police stations with 24-hour enquiry desks across Northern Ireland as a result of PSNI cuts.
Musgrave Street in Belfast and Strand Road in Londonderry will be the only stations with 24-hour public access.
Others will open for a maximum of 12 hours a day. A number of custody suites will also be closed.
The police have said the number of people coming into stations after 22:00 was fewer than 2% of visits each week.
Assistant Chief Constable Stephen Martin said the move was part of ongoing efforts to make significant budget cuts.
"With a requirement to save £38.4m by 31 March 2015 and plans of around 10% cuts next year, the PSNI is currently exploring ways to live within a reduced budget and changes to enquiry office opening hours, which will be implemented over coming weeks and months, are part of this process.
'Time of need'
"It is important the public is reassured that any reduction in enquiry office opening hours does not mean a reduction in our service," he said.
"Policing remains a 24-hour, seven days a week operation and we will continue to be there at people's time of need.
"Police activities within stations will continue as normal and we can be contacted 24 hours a day on either 101 or for emergencies on 999."
Mr Martin said the number of people coming to station enquiry offices after 22:00 accounted for fewer than 2% of visits each week.
"Policing is changing, but our policing purpose remains the same, keeping people safe is still our main priority and we will continue to do this by preventing harm, protecting people and detecting offenders," he said.
He said it was anticipated that decreasing enquiry office opening hours would save up to £250,000 annually and up to £75,000 by the end of this financial year.