RBS IT meltdown: Ulster Bank parent group fined £56m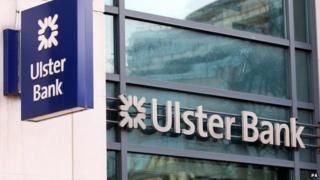 Ulster Bank's parent company Royal Bank of Scotland (RBS) has been fined £56m by the UK's financial regulators over the IT meltdown in 2012.
The failure left hundreds of thousands of customers unable to use their accounts for up to a month.
The design of the RBS IT system meant that Ulster Bank customers were the last to have the problem fixed.
Earlier this month, the Central Bank of Ireland fined Ulster Bank almost £3m for the IT failure.
The Financial Conduct Authority (FCA) said it had taken action against the banks for "failing to put in place resilient IT systems which could withstand, or minimise the risk of, IT failures".
The FCA has enforced a £42m fine and the Prudential Regulation Authority has fined the banks £14m.
The FCA investigation found that the problems at Ulster Bank took a maximum of 20 days to fix, whereas at RBS and Nat West it took only nine days.
Chairman of RBS Philip Hampton said: "Our IT failure in the summer of 2012 revealed unacceptable weaknesses in our systems and caused significant stress for many of our customers."
"As I did back then, I again want to apologise to all customers in the UK and Ireland that we let down two and a half years ago," he added.
The Consumer Council welcomed the fines, but said lessons needed to be learned.
Aodhan O'Donnell, interim chief executive, said he was disappointed it had taken over two years to "get answers from the financial regulator".
"Whilst we acknowledge the investment and action that Ulster Bank has made to prevent this incident from recurring and make their IT systems more resilient, we also need assurance that adequate steps have been taken to improve communications processes and to rebuild consumer confidence," he said.