Anti-abortion protester Bernadette Smyth guilty of harassing Dawn Purvis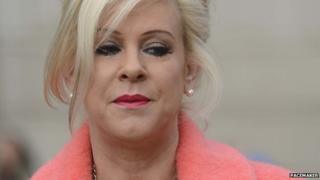 An anti-abortion protester has been convicted of harassing a Marie Stopes clinic director at her Belfast city centre offices.
Bernadette Smyth, who leads the anti-abortion group Precious Life, was warned she could face a jail sentence for her campaign against Dawn Purvis.
The judge said: "This case was run, no-holds barred, in a vicious and malicious fashion."
He said an investigating police officer had been deliberately slandered.
Ms Purvis had been the victim of an unwarranted attack, the judge said.
Mrs Smyth was also told she will be ordered to pay compensation and would be restrained from the area around the clinic.
The 51-year-old had denied harassing Ms Purvis, a former Progressive Unionist Party assembly member, on two dates earlier this year.
The Marie Stopes clinic is the first private clinic to offer early medical abortions to women in Northern Ireland under its strict legal controls.
Anti-abortion campaigners have gathered at the centre since it opened in October 2012.
'American drawl'
Ms Purvis said she had been frightened for her safety following two incidents.
On 9 January, she said that when she asked protesters to stop harassing her, Mrs Smyth replied in an exaggerated Ballymena/American drawl: "You ain't seen harassment yet, darling."
In an incident a month later, Ms Purvis said that after leaving her son and a female friend at the front door of the clinic on Great Victoria Street, one of the protesters followed the girl up the stret.
She said that when she shouted "leave them alone", Ms Smyth began to cackle and laugh in an exaggerated way.
Mrs Smyth rejected prosecution claims that she had "cackled like a witch", saying that her laughter was fuelled by nerves and anxiety.
With sentencing put back until next month, Mrs Smyth was told her potential punishment could be community service or prison.
The judge said anti-abortion campaigners stationed outside the clinic had been forcing any women of child-bearing age to identify their reasons for entering.
'Concerted attack'
He described Mrs Smyth as someone who has worked tirelessly to shut down the Marie Stopes Clinic.
"What we have here is a lady who is implacably opposed to what is going on inside that building and the work of Dawn Purvis," he said.
Holding that the incidents complained about amounted to harassment, the judge said: "To say 'You ain't seen harassment yet, darling' in whatever accent is a threat.
"This lady is somebody driven by very strong views and very strong feelings."
He added: "I want to make it absolutely clear that I do not feel it's appropriate for anyone to be stopped outside this clinic in any form, shape or fashion and questioned either to their identity, why they are going in there and being forced to involve themselves in conversation at times when they are almost certainly going to be stressed and very possibly distressed."
Turning to how the defence case was run, he said: "Throughout this case there's been a concerted attack on anyone seen as getting in the way of Mrs Smyth."
Restraining order
The judge pointed to a "completely and utterly unjustified" suggestion that senior police officers had expressed serious concerns about the professionalism of an investigating constable.
"She was slandering during the course of this case deliberately and maliciously," he said.
"Likewise Dawn Purvis herself, again maliciously and totally unnecessarily."
Because of that conduct, he said the range of possible sentencing may go from community service to imprisonment.
Mrs Smyth was told she will certainly have some form of restraining order imposed on her.
Although she left court without making comment, her solicitor described the verdict as "a disappointment for Christians worldwide".
He also confirmed plans to mount an appeal against the conviction.
In a statement, Ms Purvis said she felt "relieved and heartened" following the verdict.
"I fully respect people's right to peaceful protest, but it is totally unacceptable to intimidate women accessing a legal health service or the staff that provide their care," she said.
"I have both witnessed and been subjected to a culture of daily harassment, and seen these protesters' tactics become increasingly aggressive."