Ballymena: Security alert at Pennybridge industrial estate over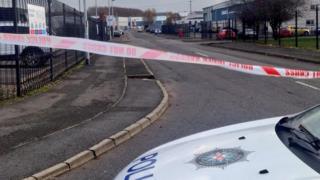 A suspicious object found under a car in County Antrim was not an explosive device, police have said.
It was discovered at a garage in the Pennybridge industrial estate, Ballymena, at about 11:40 GMT on Wednesday.
The army bomb disposal team had carried out two controlled explosions. The security alert has ended.
Chief Insp Stephen McCauley said: "We are confident that there is no cause for concern for the local community."