Spotlight: Sir Alistair Graham calls for probe into Northern Ireland MLAs' rent money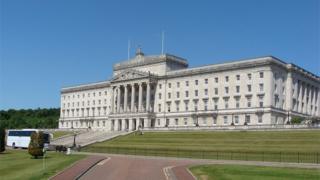 The former chairman of a Westminster standards watchdog has called for an investigation into societies that receive public money in rent from MLAs for their constituency offices.
It follows a BBC investigation into how assembly members use their expenses.
Spotlight examined the way MLAs use public money to rent their offices.
It revealed that Sinn Féin paid office rent to three different cultural societies, including rent for Deputy First Minister Martin McGuinness.
However, it was not clear what the societies were or who was behind them.
The former chairman of a Westminster standards watchdog, Sir Alistair Graham, said it needed to be investigated.
"It sounds to me that there is a real danger that these so-called cultural bodies are rather bogus organisations which is a way of channelling public money to political parties and there clearly should be some detail investigation," he said.
There were also questions about why the DUP's Arlene Foster used an office rent free from a businessman, she also bought property from.
Whilst not disputing this, the DUP said no rules were broken.
Proper inquiry
Justice Minister David Ford said it was "all about transparency".
"What last night did was raise a number of questions which need to be subjected to a proper inquiry," he said.
"The system may be dysfunctional, but that doesn't justify people pushing the boundaries to the edge of the system or possibly, as seemed to be alleged last night, beyond what is reasonable."
Sinn Féin's Francie Molloy described Tuesday night's BBC Spotlight NI as "a rubbish of a programme".
"I think it's a very good use of public money, because what has happened here is that Sinn Féin are renting accommodation for offices within a building that also serves the local community, provides resources for the local community and it's a not for profit organisation that the money's going to," he said.
"The money's used to actually deliver services."
The DUP's Peter Weir said the expenses system was "dysfunctional".
"There will be widespread concern, I think we need to restore public confidence, we need to actually look at a system in terms of funding similar to what we have at Westminster," he said.
"We have followed the rules, what we're saying it that the rules as provided I think will not satisfy public confidence and we need an Ipsa [Independent Parliamentary Standards Authority] type system."
Pat McCartan, the chair of the Independent Financial Review Panel (IFRP), which is examining MLAs' salaries and allowances, said: "There is a need now to really overhaul the system, that's what the Independent Financial Review Panel is currently doing."
However he added: "I think it's quite unfair for them to say that this is a system that is imposed on them and they can't be blamed for exploiting it - they certainly can."