JTI Gallaher: Union proposal to save 500 jobs at Ballymena factory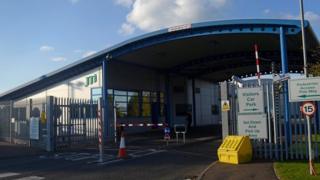 A proposal aimed at saving 500 jobs at the closure-threatened JTI Gallahers tobacco factory in County Antrim, has been put forward by a trade union.
Last month, the Japanese-owned firm said it would shut its Ballymena plant by 2017, with the loss of 877 jobs.
Unite the union has said the factory should become a "centre of excellence" for pouch tobacco and cigar production.
However, its cost-cutting proposal would see the axing of cigarette lines and result in 376 job losses.
'Redundancy costs'
The union is now seeking worker endorsement and political support for its idea.
Unite said the plan also included "concessions on the issue of worker terms and conditions".
Regional secretary Jimmy Kelly said: "JTI indicated that closing the plant would result in cost-savings of $89m (£57m) a year.
"Our proposal would save approximately $150m (£96m) in capital and other transition costs and would significantly reduce the redundancy costs associated with all 876 workers losing their jobs."
The factory is a major employer in Ballymena.
But in October, the firm began consultations on proposals to close its facilities in Northern Ireland and Belgium, with production possibly moving to Poland and Romania.
'Not easy'
The firm said its restructuring would be phased in, with factory closures completed between 2016 and 2018.
Mr Kelly added: "At all times, our union seeks to secure the very best for our members and it is not easy for us to bring forward a proposal which will see significant concessions in terms and conditions, as well as large-scale redundancies.
"However, these must be compared to the total loss of all employment at the plant."