Stormont talks to focus on Troubles legacy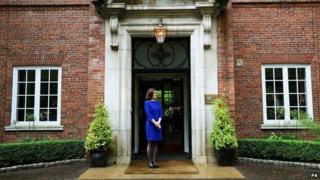 Talks involving the five executive parties and the British and Irish governments are due to resume later.
Now in their sixth week, the Belfast talks are aimed at finding progress on a range of unresolved issues.
On Wednesday and Thursday, they will focus on the legacy of the Troubles, parading and potential reform of devolved political institutions.
The secretary of state said politicians would have to "make the hard choices necessary to get an agreement".
In a statement, Theresa Villiers said: "Nobody should underestimate how tough it will be to get an agreement. These are sensitive and highly divisive issues and there are a number of points on which it will be very difficult to reach consensus."
Ms Villiers, who convened the talks, said she believed there was a "genuine desire on the part of all to make progress".
"The UK government will play its full part, but ultimately it remains for the local politicians to make the hard choices necessary to get an agreement which will enable the executive to deliver the efficient and effective government that the people of Northern Ireland want and deserve," the secretary of state added.
Earlier this month, the Northern Ireland Office warned the parties the cost of dealing with the past will rise inescapably if there is no agreement.
Northern Ireland politicians argued that the government should recognise its responsibility for providing adequate funding for investigating Troubles killings.
Last week, Ms Villiers said there had been a significant increase in the pace of the talks.
Speaking in Londonderry, deputy First Minister Martin McGuinness said securing a new financial package is a key talks objective which would "help secure the future of the power sharing institutions".
"The British government must accept their responsibilities and bring to the table the political will to resolve the problem which they played a major part in creating.
"That means they will have to deliver a new economic package for the north which undoes the damage caused by this assault on the block grant.
"There is a growing consensus among all the parties that this needs to happen if the current negotiations are to reach a successful outcome," he said.