NI children 'manipulated' into sexual activities with adults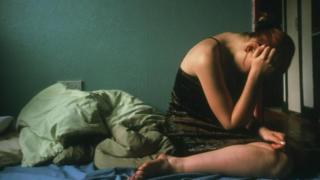 A senior social worker, who was involved in a high level police operation into child sexual exploitation in Northern Ireland, has said children are being manipulated into engaging in sexual activities with adults in Northern Ireland.
Operation Owl is specifically investigating 22 cases of people aged between 14 and 18, some of whom were found to be engaging in inappropriate behaviour.
While those 22 cases are being actively investigated, the BBC understands that 300 children are known to the police and social services, and would be regarded as being "at risk".
Speaking to the BBC, Frankie Nolan, a social work practitioner in the Northern Trust, said while there was no evidence of child sex rings operating, there was proof that perpetrators were making links with each other.
'Links'
"Certainly what we can stand over is we have adults who are sexually exploiting these children, and part of that process is they would be manipulating them into having engaging in sexual activities with other adults. So these perpetrators are making links with each other," he said.
Mr Nolan works on the frontline with young people. He is dedicated to his profession, something he has done for decades.
"They are vulnerable. Sometimes they don't even know they are victims. Social workers are dedicated, we are there to protect them," he added.
Last September, there was a public outcry after news emerged that 22 young people in Northern Ireland may have have been sexually abused. While sadly that was not new, it emerged these children were known to the authorities.
The news emerged with references to child sex rings operating in Northern Ireland.
At the time, social workers faced criticism.
As children in residential care homes were at the centre of this investigation, questions were asked if social workers were doing their job.
Frankie Nolan said social workers received a lot of bad press. He told the BBC that was "unfortunate and unjustified".
'Further risk'
"The dedicated staff we have in our children's homes go above and beyond the call of duty. They do everything in their power to keep these children safe," he said.
"I have known staff to follow children into town, to sit behind them in buses and trains to travel to different counties, to make sure these children aren't going to be placing themselves at further risk."
Edel Morgan is also a senior social worker and is involved with the over-16s in the South Eastern Health and Social Care Trust.
"These children are mine and my team's priority. Their welfare is at the core of our job, but in order to work with them we must gain their trust," she said.
"We meet in coffee houses or chat in the care home. We look out for signs that may indicate they are in trouble. They may have phones, extra money, new clothes or talking about adults that we haven't heard them talking about before. We start building up a picture about their whereabouts. We make links. We follow up."
Operation Owl has been up and running for about 18 months. It involves a multi-agency approach where the police work alongside social workers, protecting children and trying to bring perpetrators to justice.
It is joined up-thinking, and according to those involved. it is making progress dismantling a system that is designed to be hidden.
Part of the problem last year was that people thought it was confined to children in care. According to the police and social workers, it is a problem for all of society.
Mr Nolan described helping a young teenage girl who lives at home with her parents.
"We had information about her. We knew she was sexually active with several adults and she was considered high risk. With the police, we gathered information from mobile phones and Facebook. We knew about her lifestyle and her perpetrators," he said.
'Too afraid'
"We were able to confront her, help her, and go directly to her parents. While she was too afraid to bring charges, she is now in a much safer place."
Mr Nolan said they must be allowed to get on with doing the job.
"We need to utilise the staff that are involved with these children. We need to involve community and voluntary organisations. We have come on a lot but we are no means at the finishing line yet," he said.
"We will look at the recommendations that are in the Marshall report and build on them."
'Expectation'
In the run-up to the publication of the Marshall report, several social workers told me they were hoping it would be hard-hitting, detailed and would offer a way forward.
There is an overriding feeling that the manner in which this story emerged 15 months ago suggested social workers were at fault.
But now it seems those on the frontline have been keeping their head down and getting on with the job.
There is a massive expectation that the issue of child sexual exploitation will now be out in the open, there will be more direction, and accountability, from those in charge of making and implanting policy.