Strabane: Two released over attempted bomb attack on police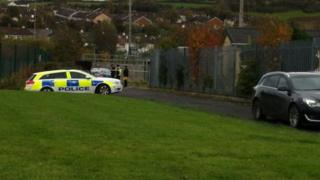 Two men who were arrested by detectives investigating an attempted bomb attack on police in Strabane, County Tyrone, have been released unconditionally.
Officers were lured to Ballycolman estate on 23 October to investigate reports of a bomb thrown at a police patrol vehicle the previous night.
The alert was a hoax but then a real bomb, packed with nails, was discovered in the garden of a nearby house.
The men, aged 29 and 43, had been questioned at Antrim PSNI station.
They had been detained in Strabane on Tuesday morning.
A number of houses were searched and two cars were seized during the operation.
The nail bomb was defused by the Army, and more than 130 schoolchildren and a number of householders were moved as bomb disposal officers dealt with the device.