'Holyman' abuser Charanjit jailed for 13 years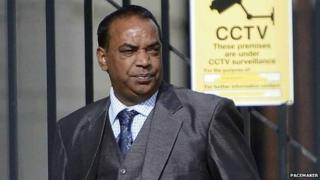 A man said to be a "healer and holyman" has been sentenced to 13 years for the rape and abuse of a 12-year-old girl .
Charanjit, 46, from Twinburn Gardens in Newtownabbey, County Antrim, was jailed in his absence after being admitted to hospital at the previous sentence hearing with chest pains.
He had been found guilty by a jury of eight sexual offences including rape and sexual assault
The judge also said that Charanjit would be deported to India.
He said it is a matter for the home secretary to decide if Charanjit who does not speak English is deported now, during his time in custody or at the end of his sentence.
Charanjit carried out the offences between 30 September 2012 and 1 February 2013.
During the trial, the victim, now aged 14, told the court that she was brought to Charanjit for treatment as he was considered a holy man or healer.
She said that he diagnosed her as having a stone in her stomach.
The victim said that she visited him twice and was sexually abused on both occasions.
The defendant denied the charges throughout the trial. However, the jury rejected his version of events.