Ligoniel: Slogans painted on soldiers memorial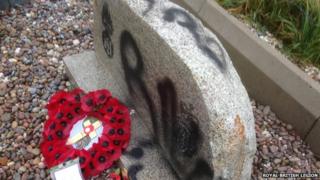 A memorial to three Scottish soldiers who were murdered by the IRA has been attacked for a 19th time, the Royal British Legion has said.
Slogans were painted on the monument at White Brae, Ligoniel, on the outskirts of north Belfast and two wreaths were removed.
The monument is a tribute to teenage brothers John and Joseph McCaig, and their colleague Dougald McCaughey, 23.
The off-duty fusiliers were shot dead at the site by the IRA in March 1971.
James Wright, chairman of Oldpark and Cavehill branch of the Royal British Legion, said: "Just like the cowards who in the dead of night murdered John, Joe and Dougald, these lowlife cowards cannot show their faces, they have to carry out their attacks under the cover of darkness.
"As a branch we will not be deterred in ensuring that the murder of these young soldiers who were off-duty and out socialising in Belfast will never be forgotten."
Sinn Féin councillor for north Belfast, Gerry McCabe, also condemned the latest incident.
"The ongoing attacks on this memorial must stop. They have gone on too long," he said.
"The actions of those involved in this are not representative of the people of this community and whoever is behind this should question what they are achieving."