Londonderry: Man found dead after house fire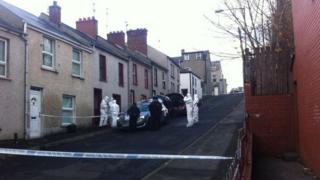 A man has died following a house fire in Londonderry.
The fire in Upper Bennett Street was reported to police shortly after 08:00 GMT on Sunday.
The emergency services were called to the house but the man was found dead at the scene. He was in his 40s.
Forensic investigators were at the scene on Sunday afternoon and police said an inquiry into the cause of the fire is continuing.
It is understood one of the dead man's neighbours tried to battle through the smoke to rescue him, but was unable to reach him.
The SDLP MLA Pat Ramsey said it was "tragic news" and added that his thoughts and prayers were with all those involved.
'Shock'
Sinn Féin councillor Patricia Logue also expressed her sympathy to the man's family.
"This a terrible tragedy and the last thing anyone would expect to hear first thing on a Sunday morning.
"I have spoken to many of the local residents here and there is shock in the community," she said.