Lislea: 'Trench' appears in road after flood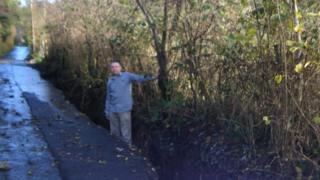 Flooding has caused major damage to a rural road in Lislea, County Armagh, leaving a 2ft wide trench in the side of the carriageway.
Sinn Féin councillor Mickey Larkin said the water washed away a drain that had been recently installed along Ballard Road.
He told the Newry Times that the trench was 2ft wide and 3ft deep in places.
He said he had notified staff from the Roads Service (Transport NI) and the road has been closed to traffic.
Mr Larkin said he would be calling on the agency to find a "permanent solution to this ongoing problem".
Torrential rain on Thursday and Friday led to flooding in many parts of Northern Ireland, with counties Down and Armagh particularly badly hit.
Several roads were impassable as a result.