Wedding dress saviours: PSNI officers wade through flood waters to retrieve dress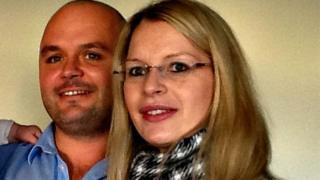 A bride-to-be has thanked two police officers who waded through flood water in Newry, County Down, to retrieve her wedding dress from a bridal shop.
Caroline Bramwell is marrying Gerard Crossin in County Monaghan on Friday afternoon.
She had hoped to pick up her dress on Thursday en route to the venue.
However, torrential downpours earlier in the day meant that the bridal shop in Bridge Street was inaccessible due to severe flooding.
She only realised the seriousness of the situation half an hour before she was due to pick up the dress.
"I was running a bit late because of the traffic in Newry and I phoned the bridal shop. The lady in the shop answered and said, 'no Caroline, you will not get near the shop. It has been flooded, but your dress is safe and no matter what happens, I will get it to you'," Caroline said.
'Challenges'
Her husband-to-be tried to see the funny side when he found out.
"I had actually received a phone call from Caroline just to say that she wasn't going to get the dress and there was a silence from myself because up to the wedding there have been a number of challenges," Gerard said.
"At this stage, I burst out laughing, Caroline burst out laughing and we just thought, let's just try and enjoy the day and even if she has to come up the aisle in a tracksuit, I would still love her."
But help was at hand in the form of two police officers based in Newry who waded through the flood water to retrieve the dress from the bridal shop.
Surprise
"They had to wade through and then go up the stairs," Caroline said.
"I didn't actually realise any of this had happened until I got a phone call from the shop owner. I only got the phone call last night about six thirty to say that my dress was in Newry police station wrapped in cling film.
"I received my dress at nine o'clock last night and they even wrote me a nice little love letter, attached to the dress so I'm very, very thankful for both of the officers who did rescue the dress wading through that terrible flood."
With the wedding dress safely in her possession, the bride-to-be has only one last pre-wedding wish.
"Most of the guests are here, apart from the groom, so as long as the groom gets here, I think I'll be happy enough," she said.