Award-winning photographs offer window on world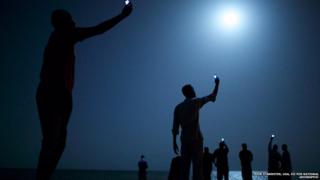 On the shores of Djibouti city at night, African migrants hold their mobile phones high hoping to capture a cheap signal from Somalia.
It feels like a sci-fi film. Stark black figures etched in moonlight wave pinpricks of light in the night sky as they strive to make contact with home,
John Stanmeyer's picture won World Press Photo of the Year 2013.
In Belfast this week, there is a chance to taste the strange, eery atmosphere created by this night shot.
Visitors can also learn about Djibouti, a common stop-off point for African migrants seeking a better life in Europe and the Middle East.
Jillian Edelstein, jury member from the UK and South Africa said about the winning picture: "It's a photo that is connected to so many other stories—it opens up discussions about technology, globalisation, migration, poverty, desperation, alienation, humanity.
"It's a very sophisticated, powerfully nuanced image. It is so subtly done, so poetic, yet instilled with meaning, conveying issues of great gravity and concern in the world today."
Susan Linfield, jury member from the USA said: "So many pictures of migrants show them as bedraggled and pathetic…but this photo is not so much romantic, as dignified."
The World Press Photo exhibition, hosted in partnership with the School of Law at Queen's University Belfast, is a window on myriad worlds, often in chaos; often at significant moments in their history.
French photographer Philippe Lopez captured survivors of typhoon Haiyan that killed 8,000 people in the Philippines.
Women walk along a ravaged landscape etched with tattered palm trees, clutching plaster holy statues, their faces drawn in anguish.
German photographer Markus Schreiber captured the face of a South African woman, disappointed because she did not get in to see the the body of President Nelson Mandela, lying in state.
South African Brent Stirton's picture of a group of blind albino boys at one of the very few schools for the blind in India is striking.
And Fred Ramos' picture of a pair of jeans and a top found on a sugar plantation tells the bleak story of a young teenage woman who has disappeared in San Salvador, one of the most violent regions in the world.
When there are no words, there are striking images.
The World Press Photo travels to 100 cities in 45 countries.
But this is the first time in its 57-year history that it has come to Northern Ireland.
Eamonn Kennedy, the organiser, initially became aware of World Press Photo when he lived in Amsterdam.
"When I realised it was not coming to Ireland, I thought I should bring it here," he said.
"These images are universal, they transcend language, colour and background. They are accessible to all.
"The pictures impact on teenagers and on 85-year-olds. People from all backgrounds can get something from these and from there, it leads to conversations about human rights."
The contest attracts 100,000 entries every year and judges sift through the images to whittle them down to what they consider are the most powerful in terms of immediate visual impact and strong story background.
Images of Syria stand beside stories about mental health in a country like Somalia.
There is no censorship in this exhibition. The rules are that the venue accepts all 150 images or none at all - no exceptions are made.
And as this is an exhibition that reaches out to everyone, it will be free to visitors from 09:00 GMT to 11:00 GMT from 18 - 23 November, Tuesday to Friday, at the Elmwood Hall, Queen's University, Belfast.
Outside those hours, there is a charge.
The project goes beyond the visual to offer a series of discussions each evening on issues prompted by the news photographs - trade justice, racism and children's rights.
There is also a programme for schools, offering young people the opportunity to engage with world affairs and the role of journalism.