Austins: Derry department store building sale agreed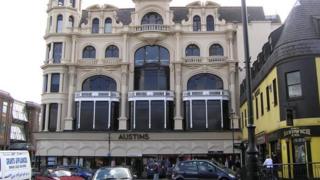 The City Hotel Group has confirmed it has agreed to buy the Austins department store building in the Diamond in Londonderry.
Fifty-five jobs were saved following the sale of Austins just a few days ago.
The firm which owned it, Austin & Co, was placed into administrative receivership last Wednesday.
The receiver then sold the trading side of the business and the store will continue operating as normal.
The business began in 1830 when Thomas Austin came to Derry, opening a drapery shop in the corner of the Diamond.
Brendan Duddy, chairman of the City Hotel Group, said it has no short or long-term plans to turn the building into a hotel.
He said that the group had bought the Austins building, name and brand but that there was a "new business setup" controlled by previous owners, the Hasson family.
"We feel that Austins is an important attraction in Derry and we're delighted to be involved in ensuring that it can stay in place," he said.
"It will continue in the same vein, so fairly seamless to the staff, the public and anybody else.
"We're hoping to assist them to grow that business, maintain it and keep it strong."