Orange Order meet gardaí over arson attacks on Donegal halls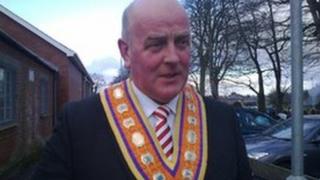 The leadership of the Orange Order has met with a senior police officer in the Republic of Ireland to discuss arson attacks on two Orange halls in County Donegal.
The meeting, at the request of the Order, took place with Assistant Commissioner Kieran Kenny on Wednesday.
It followed arson attacks on halls at Newtowncunningham in September and Convoy last month.
Orange Order leaders said the meeting was "extremely useful".
"Those responsible must not be allowed to succeed as both halls acted as social hubs and served all sections of the wider community," Grand Master of the Grand Orange Lodge of Ireland, Edward Stevenson said.
"The brethren of Newtowncunningham and Convoy can be assured of the support of the entire Orange fraternity as they come to terms with their loss and go about commencing the rebuilding process."
Orange Order Grand Secretary Drew Nelson said the organisation intends to meet with Irish justice and equality minister Frances Fitzgerald about the issue "in the coming weeks".