Eamon Bradley refused bail in Syria explosives case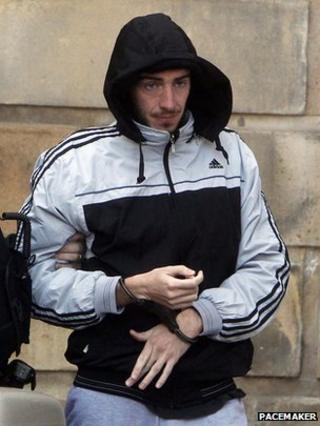 A Londonderry man accused of having a grenade and being trained in weapons and explosives in Syria has been refused bail at the High Court.
Eamon Bradley, 25, from Melmore Gardens in the city, was arrested after returning from Syria earlier this month.
The court was also told he had taken part in three battles in Syria against ISIS and the President Bashar al-Assad regime but did not fire his weapons.
The judge refused bail.
He said this was to allow time for electronic devices seized by police to be examined.
The judge added that he would review this decision in two weeks.
Mr Bradley is accused of having a grenade with intent to endanger life in Syria and attending a weapons and explosives training camp in the country.
The court heard how he converted to Islam six years ago and travelled to Syria in February of this year after hearing of the atrocities there.
It heard he had taken part in a training camp where he learned to use weapons.
The court was also told that he had returned home after becoming disillusioned.
A prosecution lawyer said Mr Bradley first came to the attention of police in July when he posted photos of himself on Facebook.
They searched his home and were told by his mother he had travelled to Syria via Turkey to fight with the Free Syrian Army.
Photographs
Police seized her mobile phone after finding photographs of him on it in combat uniform in the Middle East.
When he returned in October, Mr Bradley travelled home to Derry where he was arrested a few days later.
Opposing bail, a lawyer said there was a fear Mr Bradley would use his training at home or abroad or that he would return to the Middle East.
But Mr Bradley's defence lawyer said it had been a matter of conscience for him to protect the people of Syria and he had gone there to fight against ISIS and President Assad's regime with the Free Syrian Army, which he said, was backed by the US-led coalition including the UK government.
He said Mr Bradley had no links with paramilitaries in Northern Ireland and denied there was a risk of him fleeing, arguing he had returned home despite the press branding him 'Eamon of Arabia' and knowing his home had been searched by police.
The lawyer said Mr Bradley had become disillusioned, and he did not speak Arabic. He said Mr Bradley "was like a fish out of water" and there was "no proper structure".
"He missed his family, He came home and for him that was it," he said.
The lawyer added that the prosecution case was based solely on information provided by Mr Bradley.