Ballycastle: Runaway raccoon Rab recaptured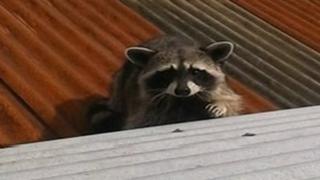 Rab the runaway raccoon who escaped from his home in Ballymena, County Antrim, has been recaptured.
The raccoon was discovered by a member of the public who found Rab in a car port in Ballycastle 26 miles away.
Rab, who left behind his mate, Rita and four kits, as young raccoons are known, was reported missing in September.
Police turned the fugitive over to the Ulster Society for Prevention of Cruelty to Animals until he can be returned to his owner.
Rab was spotted several times since escaping from a mini-zoo on Linenhall Street in Ballymena.
'Missing'
Police wildlife officer Marianne Breen confirmed that a raccoon had been captured in Ballycastle on Wednesday.
"I believe it is probably Rab, the raccoon that was reported missing from Ballymena back in September," she said.
"The USPCA are caring for the raccoon at present until he can be returned to his owner."
Raccoons are native to North America, but they have been introduced to some parts of Europe.
They are nocturnal and tend to hide during the day. Their closest relatives are the badger and wolverine.