Irish police watchdog: Police service 'broken'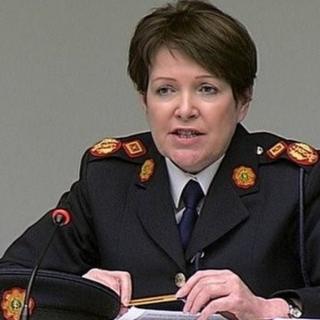 The oversight body for the Republic of Ireland's police force, An Garda Síochána, has described it as "broken".
The Garda Inspectorate report into crime investigation found systemic failures, poor management and downgrading of crime.
Acting Garda Commissioner Noirín O'Sullivan has accepted the need for reform.
However, she denied crime figures were massaged after the inspectorate said many crimes were not recorded.
The report has claimed that detection rates were much lower than claimed.
The 500-page report found that a third of all detectives are untrained, with some waiting up to 10 years to receive instruction.
It also revealed there was an under-use of fingerprinting, there were often "serious issues" with the investigation of domestic violence cases with some seeing it as a waste of of police time, and detection rates were exaggerated.
The report also said:
Information technology available to other police forces for the last 30 years is not available to the Garda Siochana;
Sergeants and inspectors are over-burdened with administrative work;
Many victims felt neglected and that the force had no interest in solving crimes;
All too often inexperienced officers lead investigations because they were the first on the crime scene.
The damning report is the latest in what has not been a very good year for the force.
Just under a year ago Judge Peter Smithwick found that an un-named rogue garda officer had colluded in the IRA murders of Chief Superintendent Harry Breen and Superintendent Robert Buchanan of the Royal Ulster Constabulary near the border in south Armagh on 20 March 1989 after they returned from a visit to Dundalk garda station.
Judge Smithwick found that gardai had placed loyalty to the force over honesty.
This year has already seen the resignation of Garda Commissioner Martin Callinan; controversy involving whistleblowers over officers wiping the driving licence penalty points of well-connected people; and the revelation that some phone calls to garda stations, possibly involving solicitors to clients in custody, may have been recorded.
Inspectorate Chief Inspector Bob Olson described the service's investigation system as "patchy" rather than "dysfunctional" because the force did function.
However, he added that if other forces were examined as closely over the last two years as An Garda Síochána had been, he doubted they would need the same level of reform that was now being suggested for the Republic of Ireland's police.
IJustice Minister Frances Fitzgerald said the findings raised serious concerns and were "challenging."
She said the government was committed to further reforms including a new police authority.
It is understood that the appointment of a new police commissioner to replace Martin Callinan is imminent with the shortlist reduced to three candidates, including Noirín O'Sullivan.
Whoever gets the job will take over a force that will need a lot of work done to make it more modern and fully fit for purpose.
That will inevitably cost extra money at this stage and it is unclear if the cash-strapped government will give the extra resources.