Gerry Adams 'led inquiry' into victims of republican sex abuse, Dáil told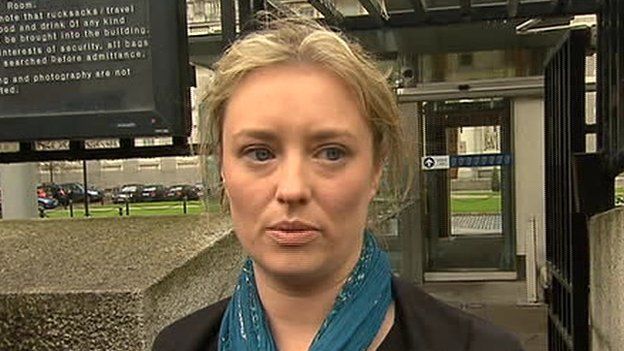 Gerry Adams presided over an investigation that identified more than 100 victims of sexual and physical abuse, the Irish parliament has heard.
The claim was made in the Irish parliament (Dáil), which is debating allegations of sexual abuse by members of the republican movement.
It was tabled to deal with allegations arising from the Maíria Cahill case.
Mr Adams, the Sinn Féin president, said anecdotal evidence suggested some sex abusers went to Britain.
She further claimed that the IRA had subjected her to an internal inquiry in 1999 that culminated in her being forced to face her alleged abuser.
The man she accused, Martin Morris, has consistently denied her claims and was acquitted of all charges.
The Dáil has been hearing statements about the allegations and alleged movement of abusers from Northern Ireland to the Republic of Ireland.
Prime Minister (Taoiseach) Enda Kenny said Ms Cahill's claims were "chilling".
He said "instead of manning up" and doing what real men would have done, which would have been to comfort her, the IRA did the "polar opposite and objectified and humiliated her all over again with their kangaroo court."
"They inflicted on her an extravagant cruelty," he said.
Ms Cahill has been watching the proceedings from the public gallery.
Mr Kenny said that in the case of Ms Cahill, Sinn Féin and the IRA "put the institution first" and covered up the abuse so the "untouchables would remain untouchable".
He described them as "republicans who thought so much of this republic, that they would honour us with their rapists and give us their child abusers".
Fine Gael TD for Meath East Regina Doherty said: "Deputy Adams, can you tell this house about an internal investigation led by you and other senior Sinn Féin politicians where you identified in excess of 100 victims of sexual and physical abuse at the hands of Sinn Féin or IRA members?
"Can you tell us about that investigation, what did it uncover? Can you tell us did you report it to the gardaí (police)?
"Did you report any of the 100 cases or so to the gardaí? Can you tell us why a senior press director of Sinn Féin was briefed to prepared a damage limitation exercise and was instructed to prepare a media strategy in the event of that investigation ever leaking?"
Ms Doherty said she would hand over information to police on Friday about eight alleged abusers, who she claimed, were facilitated by Sinn Féin in moving to the Republic of Ireland.
Ms Doherty said she was too afraid to name them in the Dáil on Wednesday.
Mr Adams said his party was not involved in any cover-up of abuse.
The Sinn Féin president denied that he had information about Sinn Féin or IRA members having been moved across the border, but acknowledged that the IRA was not equipped to deal with such allegations in the absence of what republicans would describe as "accountable policing".
He said he had apologised for mistakes republicans had made in dealing with alleged sex abuse, and said that it was a matter of public record that the IRA had punished "offenders".
Mr Adams said that some sex abusers were shot and expelled and there was anecdotal evidence that some went to Britain.
He said many people in the nationalist community in Northern Ireland in the past turned to the provisional (IRA) movement to deal with abuse.
Mr Adams told the Dáil that if he or Sinn Féin were at fault, he would accept and acknowledge that.
Micheál Martin, the leader of Ireland's opposition party, said: "The evidence is overwhelming that within the communities which the Provisional IRA worked to dominate, abuse of children was frequent and any action which was taken was designed to limit the publicity rather than to ensure justice.
"This was known at the top of both parts of the movement and it was actively colluded in. This not only continued after the ceasefires and the Good Friday Agreement, it has continued to this day.
"There was widespread abuse. There is an ongoing cover-up."
Mr Martin claimed there are as many as 28 victims who are now discussing how they might have the truth of what happened to them acknowledged.