Man from NI taken advantage of in Spearmint Rhino strip club says Bournemouth councillor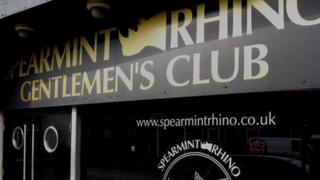 A councillor in Bournemouth has said a lap dancing club took advantage of a man from Northern Ireland who ended up with bill for £7,500.
The man, who did not want to give his name, visited the Spearmint Rhino club in Bournemouth during a stag weekend.
He admits he was drunk while visiting the club, but said that they exploited him when he was in a vulnerable state.
Councillor David Smith said efforts by the man to recoup some of his money had so far been unsuccessful.
"He is clearly annoyed about the way he was treated when he went into the club," he said.
"This was some 15 months ago and he got quite inebriated and he admits that he had far too much to drink and he went in there and he seemed to get separated from his friends and then the exploitation took over."
Mr Smith explained how the man ended up £7,500 out-of-pocket.
"The way it works is a bit like a casino because when you go in and once you decide you want some fun with the girls as it were, you buy chips, I think they call them Rhino chips, so you sign your credit card and they bring you chips and when the girls perform their acts upon you, or whatever it is they do, you pay them with chips," he said.
Foolish
"It seems they kept bringing him the credit card machine to sign and they kept giving him chips and he kept handing them over to the girls and in the course of doing that they went through two or three of his credit cards and took seven and a half thousand pounds in the process.
The councillor said the man acknowledged that he had been foolish.
"He admits that he is foolish, but there is also I think a duty of care by any establishment in any walk of life that you don't take advantage of vulnerable people and in the state he was in, he was clearly vulnerable. One could argue they should have known better than to do that."
Mr Smith said the man had chosen to remain anonymous because he had a "fairly good job" in Northern Ireland and did not want to be embarrassed by his friends or work colleagues.
"Since this case has been highlighted in the press, at least two other people have come forward to say exactly the same," Mr Smith added.
No one from Spearmint Rhino in Bournemouth was available to speak to the BBC. However, a spokesman told the Daily Mail that the allegation dated back to the summer of 2013.
He said: "The matter is now being raised as an objection to the renewal of the SEV licence which has already been renewed once since that date.
"The allegation is denied and it is not intended to engage in a trial through the media. Spearmint Rhino investigate any complaints made and work with the authorities and banks in all enquiries they carry out.
"The authorities and the bank found such an allegation was not made out.
"If this is the same incident, and Spearmint Rhino are not aware of any similar incident then this was dealt with around a year ago."