PwC says NI's economic growth is set to slow down in 2015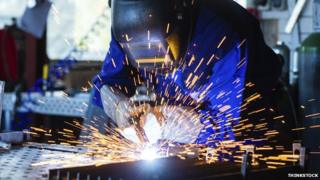 Northern Ireland's economic growth is set to slow down in 2015, according to a forecast from business consultancy PwC.
The firm said that growth in 2014, forecast at around 2.2%, is being largely driven by consumer spending.
However, it predicted consumer spending will dip, bringing growth down to 1.9% in 2015.
That is below the forecast UK average of 2.5% and the lowest predicted growth for any UK region.
The firm said that consumer spending growth has been relatively strong for the past two years despite weak earnings growth.
That is attributed to more people being in work, increased income tax personal allowances and low mortgage interest rates.
However, PwC said it expected the proportion of household spending on essentials like housing costs and utilities to rise steadily and account for more than a quarter of total consumer spending by 2020.
The report also said that while Northern Ireland has "performed remarkably well" in job creation since the economic crisis, that has not translated into improved economic output.
After London, Northern Ireland was the second best-performing region in terms of absolute employment growth.
Between 2009-2014, the region's employment grew by 8.3%, well ahead off the south-east at 5.4% and Scotland at 4%.
However, the overall performance of the economy, as measured by Gross Value Added (GVA), is weaker.
GVA is a measure of income generated by businesses, minus the cost of goods and services used to create the income.
London delivered a 15.4% GVA increase in cash terms between 2007-2012.
Over that period Northern Ireland's GVA actually declined by 1% - the only region to show a fall.
Esmond Birnie, PwC chief economist in Northern Ireland, said that pointed to structural weaknesses in the economy.
"While we are creating jobs, those jobs aren't creating wealth, increasing wages, improving household disposable incomes and that makes closing the prosperity gap with the rest of the UK next to impossible," he said.