Police college: Desertcreat 'still current number one option'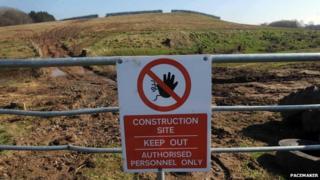 The justice minister has said a revised business case for a community safety training college "might be required to look at the best location".
David Ford told the assembly's Justice Committee that Desertcreat near Cookstown, County Tyrone, remained "the current number one option".
Last week the steering group for the plans to build a training facility for police, prison officers and firefighters halted the project.
More than £12m has already been spent.
A review is now being carried out, and the executive has insisted it is committed to an integrated training facility for the three services.
Mr Ford told the committee: "The project has not stopped, but nor is it currently going ahead as originally planned.
"The steering group decided it was necessary in the current financial situation to pause and take stock."
'Dejected'
The chair of the committee, DUP MLA Paul Givan, said: "There are very real concerns out there that this has been a botched process that has cost the people of Northern Ireland a world-class training facility.
"This project is on life support and it's only a matter of time before the switch is turned off in my view."
But Mr Ford responded: "To say this has cost us a world-class training facility is a long way from where we currently are."
He added: "I think the suggestion this project is to be 'turned off' as opposed to 'revised' is a dangerous suggestion at this point."
He rejected a suggestion from Mr Givan that the Northern Ireland Audit Office should investigate at this stage.
SDLP MLA Patsy McGlone, in whose constituency Desertcreat lies, described the situation as "incredible" and said people were "bitterly dejected".
'Number one option'
He asked Mr Ford if he was committed to a project "of this ilk" at Desertcreat.
Mr Ford said: "It may be that a revised business case might be required to look at the best location.
"It would be dishonest to suggest that if there is a significant reduction in the needs for the three services, then the project automatically continues at Desertcreat.
"But on the other hand, Desertcreat is the current number one option."
The Police Service of Northern Ireland Assistant Chief Constable Alistair Finlay said that if the scope of the project was amended, he did not think the police would say if Desertcreat was "the right or wrong site".
He went on to say that the police's training facilities were "ageing" and added: "There is no dragging of feet from the services' perspective."
The Sinn Féin vice-chair of the committee Raymond McCartney said it was "nearly mind-blowing" that almost £160m had been set aside for the project and that no-one had come up with a college to fit the services' needs.
£57m has been allocated for the project in the executive budget for the next financial year.