Jason McGovern death: Mark Donnelly 'an innocent' court hears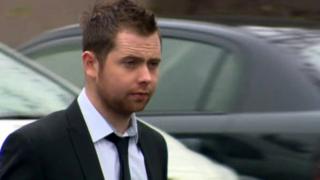 The man accused of killing a County Monaghan teenager is either a cold liar or an innocent wrongly identified by a flawed, yet honest witness, a jury has heard.
Mark Donnelly, 22, of Greencastle Road, Omagh, County Tyrone, denies manslaughter and affray.
He is accused of killing Jason McGovern, 19, from Tydavnet.
He was found dead at a friend's house after he was attacked on New Year's Eve in Omagh in 2012.
He had suffered a fractured skull and died as a result of bleeding to his brain.
Witnesses said he was punched once and struck his head as he fell back to the ground.
At Dungannon Crown Court on Tuesday, a defence lawyer said Mark Donnelly was an innocent who had wrongly been identified by a witness as the attacker.
The lawyer said the jury could not rely on the evidence of the key witness who said she saw Mark Donnelly punch Jason McGovern.
He said these flaws could not be explained and that even honest people could can make genuine mistakes about what they reportedly saw.
The lawyer said the teenager could have fractured his skull in another way.
He could have hit his head against a car during an earlier fight or he could have fallen out of bed when he returned to his friend's home in County Monaghan, he said.
The defence lawyer said his client was innocent. He told the jury that if the evidence was not there, then you could not convict.
Earlier, the court heard a prosecution lawyer call Mark Donnelly a"cold individual" who told "a big lie".
He said he kept quiet during police interviews because he "did not want to let something slip".
In his closing statement to Dungannon Crown Court on Tuesday, the prosecution lawyer said Mr Donnelly had been present at the beginning and end of what happened in Omagh early on New Year's Eve 2012
He said it was the prosecution case that he struck the blow that ultimately led to Mr McGovern's death.
He said the accused's claim that he knew nothing was "a big lie" and "a badge, a hallmark of his dishonesty" in order to keep himself out of the frame.
The lawyer said his "no comment interviews" with police demonstrated he was "cold" and did not want to say something that would implicate him in "a death that he knew he was responsible for."
Instead, the lawyer said, he blamed his solicitor; he blamed a black-out for not recalling the fight; he blamed a witness for identifying him wrongly.
He also claimed a police officer was wrong in what he said about asking his girlfriend if she had washed the shirt he had been wearing.
The lawyer said Mr Donnelly had no innocent explanation for what had happened and that he knew he was "in big trouble".
The jury is expected to deliberate on its verdict on Wednesday.