Malaya veteran calls for all the fallen to be remembered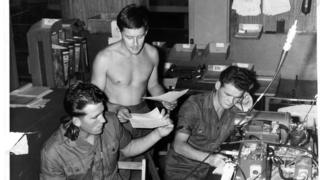 Remembrance is for everyone, said former soldier Isaac Hall.
Some soldiers fell on the battlefield; some were killed accidentally in "friendly fire"; some drowned in a distant Malay river and some were killed on a road far from home in post-war Germany.
But they were all serving their country, they all deserve to be remembered, he said.
Isaac, from Comber, Northern Ireland, served with the Royal Ulster Rifles.
In the years after World War Two, he was stationed in Germany but was sent to Borneo in what was known as the Malaya emergency when Commonwealth troops were sent to fight Communist insurgents.
"There were 600 of us there. In 1963, we were stationed in Germany and we were lifted and laid in armoured cars," he said with a laugh.
"Then it was over to England and we were thrown down on our feet and tramped up and down the breadth of the country."
They were in training for the jungle. The RUR was being sent to Malaya where Isaac Hall served between 1964 and 1965.
There were six weeks for acclimatisation in Australia and a spell in a jungle welfare training centre in Malaya where they learned about purifying water, dealing with leeches and what fruits of the jungle were safe to eat.
Then it was off to Borneo.
"I was a radio operator stationed about 180 miles from headquarters in a place called Katibos. We had to be on call 24/7. Katibos was just rows of barbed wire put in a circle around the river and back again - that was it.
"The local people were recruited to build us straw huts. We had huts with wooden frames and tapioca leaves for the roof."
Conditions in the jungle were very tough. He particularly remembers an emergency that could have been disastrous.
"I remember that there was a Lance Corporal Bob Binsmore from the medical corps - the cholera broke out among the local people and he went down and he protected and saved them. That was really something."
And there were ambushes and gunfights. There was bloodshed.
"There were 130 enemies versus 30 of the Gurkhas," he said.
"The battle started at 2.30pm and the two sides did not break contact until it was dark.
"The radio was all squeaks and whistles in those days and after dark you could only work in morse code," he said.
"But we asked the Gurkhas to tell us in one word what they wanted and they radio-ed back: 'Help' ".
He said the devastation caused in that battle was unbelievable - the blood trails through the trees; enemy bullets lodged high up in branches.
And of course comrades died.
"We lost one young fellow from Dublin. He was killed in an accidental discharge when a gun went off.
"His parents sent a message and they just asked to have his hat and his belt sent home. Bodies were not sent back - he was buried out there in a military cemetery in Singapore.
"Another boy drowned in a river out there.
"I remember the young lad who got shot accidentally; our people knocked down and killed on the road in Germany.
"Remembrance is for all of them. They are all worth remembering. Some were on national service. They did not ask to be there. People died and they should all be remembered because they were there and they served," he said.
Not all memories of those days are harsh ones.
Isaac Hall fell in love with the jungle.
"It was out of this world," he said.
"You drove out and got out and walked into it and sat down. For the first ten minutes you did not hear a thing.
"Then, when you thought you were in an empty place, it all started moving again. There were leeches and there were centipedes. There were butterflies with a four-inch wide wing span. You've never seen the like, it was just fantastic."
How the world has changed, he said.
"When I was based in Tebedu, there was very little. There was just a track leading up the road" he said.
"Now I can go onto the internet and see the hotels that have sprung up, all that modernisation. It is sad in a way - such change, such modernisation," he said.