McGoldrick Enterprises: Care home firm accused of corporate manslaughter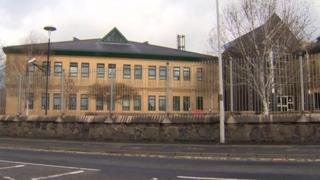 A County Antrim care home company must stand trial over the death of an elderly resident, a judge has ruled.
Mary Dowds died suddenly at Maine private nursing home in Antrim on 8 April last year. The home cares for people with learning disabilities.
The firm that runs the home, McGoldrick Enterprises, has been sent for trial accused of corporate manslaughter.
The company's director, Ian McGoldrick, confirmed to Antrim Magistrates' Court that he was aware of the charge.
Standing in the body of the courtroom, Mr McGoldrick was asked if he wanted to use his right to either give evidence, comment on the charge or call witnesses.
He replied: "Not at this time."
However, he said he was not objecting to a preliminary hearing in the case.
A prosecution lawyer told the judge that "there is a prima facie case against the accused company" based on of the legal papers before the court.
No contrary submissions were made by the firm's defence barrister and the judge ruled that McGoldrick Enterprises be sent for trial at Antrim Crown Court.
He ordered the firm, with an address at the Creevery Road, Antrim, be arraigned on the charge of corporate manslaughter on 9 December.